Can be prevented with Small Modifications in Life Style
Polycystic ovary syndrome (PCOS) is one of the most common endocrine disorders in Adolescent Girls. It is a disorder with a heterogeneous presentation, which includes hyperandrogenism and ovulatory dysfunction. It is one of the most common reproductive endocrinological disorders with a broad spectrum of clinical manifestations affecting about 6-8% of girls.
Adolescent phase of life brings multiple physiological, anatomical, and psychological changes in the life of girls. Due to familial, cultural, and societal restrictions most of the adolescent girls are not able to share and get right advice for menstrual related problems. PCOS is one of these conditions which are of serious concern.
PCOS – Indian Scenario
Prevalence of PCOS among women in India ranges from 9-36% in India according to various recent studies. According to a study conducted in two telugu speaking states 9-15% teenage girls are suspected to suffering with PCOS. Obesity in peripubertal girls exacerbates PCOS in adolescence and is a risk for the same. Every 3rd Overweight/Obese adolescence girl has PCOS i.e. 40% of obese girls are having PCOS.
PCOS – Health Issues
PCOS leads to various issues such as Menstrual Irregularities, Acne, Hirsutism. Though PCOS is a common disorder among girls it is ignored during their adolescence irregular menses with anovulatory cycles.
In addition to these important reproductive manifestations, PCOS has metabolic characteristics that confer a substantially increased risk for glucose intolerance and type 2 diabetes. Insulin resistance is a common finding in PCOS that is independent of obesity.
Obesity is a common finding in adolescent girls with PCOS and between 40–80% of adolescent girls with this condition is reported to be overweight or obese. Lower fasting levels of the peptide hormone, ghrelin, have been reported in women with PCOS compared to weight-matched control women.
PCOS – Related Factors
The determinants of polycystic ovarian syndrome have been linked to both hereditary and environmental factors. The attributed hereditary factors include early age of sexual maturation, premature fetal development, and family history of PCOS among first-degree relatives.
The associated environmental factors reported include physical inactivity, obesity, and its associated insulin resistance. Insulin resistance which is of high prevalence in the Indian population has been consistently reported as a strong determining factor for the occurrence of PCOS.
However, the nature of the environmental and lifestyle determinants of PCOS including physical activity and obesity is suggestive of the fact that variations could exist in the prevalence of PCOS in urban and rural settings due to dissimilar dietary practices and the level of physical activity.
Need for early diagnosis
The occurrence of polycystic ovarian syndrome has been associated with an increased risk for Type 2 diabetes, gestational diabetes, hypertension, and gynaecological cancers. This necessitates estimation of proportion of adoscelent girls are affected by PCOS in the population. It is also important to make an early diagnosis in order to prevent early and late sequel of the syndrome.
The diverse manifestations of PCOS start at an early age when a girl is maturing into a young woman. During this pubertal transition, several features may be in evolution and thus many findings may be transitory which stabilize later during adolescence. PCOS usually has a peripubertal onset; so, it is a disorder of significant health concern.
Hence it requires a greater awareness thus leading early diagnosis that can allow girls to lead healthy life.
Prevention better than Cure
Due changing trends in food habits and life style, changing variety of foods and increasing obesity among adolescent girls. Obesity is very important factor confronting to pressure and severity of PCOS among adolescent girls. Hence, all adolescent girls must question themselves about any symptoms mentioned above of PCOS.
In order to prevent PCOS, it is advised that adolescent girls must undertake modifications in their life style. Parents must ensure that every adolescent girl performs regular exercises for a minimum period of 30 minutes every day. They must also focus on modifying behavioural aspects related to self image and depression etc.,
Further it is advised to develop awareness about nutritious food and increase its consumption while reducing the consumption of sugar, high fat excessive diet is necessary. Intake of nutritious and healthy food especially homemade must be ensured,
Overall, such unnoticed, silent disorder can be prevented with these small modifications in their life style, food habits, exercising regularly etc.
As prevention is better than cure always, Girls please do take a note of it.
———————————————————————————————————————————————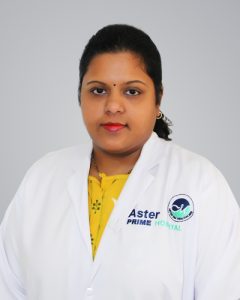 This article is prepared by Dr.P Tanuja, MBBS, MS; Consultant, Obstetrics & Gynaecologist, Aster Prime Hospital, Ameerpet, Hyderabad.