"The escape from pain in surgical operations is a chimera, 'Knife' and 'pain' in surgery are two things which are always inseparable in the minds of patients" are the words used by Alfred-Armand-Louis-Marie Velpeau, a French surgeon in year 1939.
As late as 1839, the notion of a pain-free surgery was considered fanciful, and budding surgeons were steeled early on to become indifferent to the screams and cries of patients as they were cut open.  Several methods were used to make patient to make unconscious before performing the surgery.  But the pain is always the pain.
How can we reduce the pain is a million dollars question before medical experts until 16th October 1846 when William T Morton has successfully performed first demonstration of using Ether as anaesthetic. The discovery made it possible for patients to obtain the benefits of surgical treatment without the pain associated with an operation.
Concept of Painless Surgery Arrived
It is now over 150 years since that day when the world changed for medical care. Anaesthesia has evolved and so too have the anaesthesiologists. The once impossible general anaesthesia is now achieved with exquisite precision, attaining not just loss of consciousness but also muscle relaxation, pain relief and of course, stable cardiac vitals.
Over the past century, the study and administration of anaesthesia has become more complex. Historically anaesthesia providers were almost solely utilized during surgery to administer general anaesthesia in which a person is placed in a pharmacologic coma. This is performed to permit surgery without the individual responding to pain (analgesia) during surgery or remembering (amnesia) the surgery.
In the nineteenth century the beginnings of general anaesthesia started with the introduction of ether in Boston and chloroform in the United Kingdom to bring about a state of unawareness and unresponsiveness to the pain of surgical insult. With the discovery of cocaine in the mid-nineteenth century there began to be drugs available for local anaesthesia.
By the end of the nineteenth century the number of pharmacological options increased and they began to be applied both peripherally and neuraxially. Then in the twentieth century neuromuscular blockade allowed the anaesthesiologist to completely paralyze the patient pharmacologically and breathe for him or her via mechanical ventilation. With these new tools the anaesthetist could intensively manage the patient's physiology bringing about critical care medicine, which, in many countries, is intimately connected to anaesthesiology.
Anaesthesiologist – Complete Care Giver
Anaesthesiologists are medical doctors who specialize in anaesthesia care, pain management and critical care medicine, and have the necessary knowledge to understand and treat the entire human body.
Anaesthesiologists meet with you and your surgeon before surgery to assess your health and make decisions to ensure your anaesthesia care is as safe and effective as possible. They monitor your vital signs during surgery, including how well your heart and lungs are working while you're unconscious, and they take care of you after surgery to make sure you're as comfortable as possible while you recover.
Anaesthesiologists also play a key role in taking care of patients who are having minor surgery or who may not require general anaesthesia, such as women in labour who need to be awake and alert but require effective pain management. They also help patients who have serious pain from an injury, or chronic or recurring pain such as migraines or ongoing back problems.
Today, anaesthesiologists' roles extend far beyond from operation theatres and to include:
Being part of the pre-hospital emergency response team.
Aiding in patient resuscitation in the emergency department.
Running the Intensive Care Unit (ICU), handling everything from snakebite victims to comatose patients.
Acute and chronic as well as cancer pain relief via specialized pain centres.
Providing sedation and anaesthesia outside the operation theatre (radiological procedures, endoscopies etc).
Specialists in Pain Management
Physician anaesthesiologists specialize in pain control, and some focus their practices on treating patients with chronic pain. If you suffer from pain that won't go away, such as migraine headaches, back pain or pain caused by a condition such as fibromyalgia, ask your doctor about a referral to a physician anaesthesiologist who specializes in treating chronic pain.
Critical Care, Trauma and Disaster Management
Anesthesiologists are uniquely qualified to give critical care services because of their extensive training in clinical physiology, pathology, pharmacology, and resuscitation. Some Anesthesiologists pursue advanced training in critical care medicine as ICU intensivists in both adult and pediatric hospitals. Being the incharge of ICUs, they direct the complete medical care for the sick patients. In ICU, Anesthesiologists as intensivists provide medical and diagnostic services, care of intubated or nonintubated patients, and also control the various types of infections besides coordinating with various other medical and paramedical personnel as the leader of the team.
The disaster management is a new concept which is also being looked after by none other than an Anesthesiologist. Teams of doctors, which are meant for looking after disaster management, are usually headed by Anaesthesiologists.  Because Anaesthesiologists are basically intensivists, who are fully trained experts in resuscitative measures.
When Seconds Count…..
"The surgeon is the head of the sailing ship but the anaesthesiologist is the head of a sinking ship." as told by a senior anaesthesiologist, When things get rough during a surgery, with severe blood loss or a drop in vitals, it is the anaesthesiologist who is looked upon to take over, stabilize and resuscitate the patient.
Finally we can conclude that anaesthesiologists are highly skilled medical experts who had in-depth training and experience to be able to react and save a life.  Emergency, Intensive Care Units, Operation Theaters where every second counts between patient's life and death, role of Anethesiologists became more and more important in saving lives.
——————————————————————————————————————–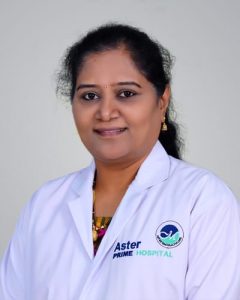 This article is prepared by Dr.Uma Sreedevi, MD MHA FIPP, Head of Department, Anesthesiology, Aster Prime Hospital, Hyderabad