A social taboo
Gender-related cancers have an overwhelming sense of shame and taboo attached to them. Speculations about the causes of the cancer sometimes go bizarre and several of them are neither related to disease or facts associated with it.
Often the biggest hurdle in treatment of cancer is the perception more than the disease. According to experts going to cancer hospital is itself considered as a taboo. With women's cancers, the sense of shame is more because it is related to reproductive health, and in case of breast cancer, accepted standards of feminine beauty. Several other myths associated with this taboo and shame, people do try to maintain secrecy especially when a woman suffers with cancer.
All this is because lack of awareness, information about the disease and lots of myths associated with it. In order to remove such misconceptions, here are few facts about varied Gynecological cancers….
What is Gynecologic Cancer?
Gynecologic (female) cancer is the growth and spread of cancer cells in the Breast, Uterus, Cervix, fallopian tubes, Ovaries, vagina, and vulva. These are also known as the reproductive organs
What are the key statistics about gynecologic cancer?
India has more than 1.5 million new cases of cancer every year, a number that is much less than an economically more advanced country like the US probably because we have a vastly younger population and the chances of getting cancer get higher with age. But survival rates are poor, and according to a study published earlier this year in The Lancet Oncology, more women are diagnosed with cancer than men. Breast, cervical, ovarian and uterine cancers account for more than 70% of the cancers in women in India.
The numbers are scary, although the rise in cases has to be taken in conjunction with the fact that more and more women are being diagnosed in the last decade. A study released this year by the Noida-based National Institute of Cancer Prevention and Research says one woman dies of cervical cancer every eight minutes in India. The average age of breast cancer in India is almost a decade lower than in the West. One of every two woman newly diagnosed with breast cancer doesn't survive in this country. According to a report by EY and the industry body FICCI released last year, titled 'Call for Action: Expanding cancer care for women in India, 2017', cancer among women in India is estimated at 700,000. India topped the list for mortality for breast and cervical cancers and reported the second highest incidence for ovarian cancer globally.
Who's at risk for gynecologic cancer?
Any woman is at risk of developing gynecologic cancer.
Uterine or endometrial cancer risk factors include
Obesity
High blood pressure
Diabetes
Menopause at a late age
Use of certain medicines such as birth control pills, estrogen, and tamoxifen
Ovarian cancer risk factors include:
Family history of ovarian cancer
Increased age
Reproductive history such as not having been pregnant, fertility treatment
Hormone replacement
Obesity
Having had breast cancer
Cervical cancer risk factors include:
Human papillomavirus (HPV)
Smoking
Early age of first intercourse
A high number of sex partners
Human immunodeficiency virus (HIV)
Vulvar cancer risk factors include:
HPV
Smoking
Increased age
HIV
Vulvar intraepithelial neoplasia
Lichen sclerosis (LSA)
Vaginal cancers risk factors include:
HPV
Smoking
Increased age
Diethylstilbestrol (DES)
Vaginal adenosis
Having had cervical cancer
Alcohol
HIV
Vaginal irritation
What are the signs and symptoms of gynecologic cancer?
Uterine or Endometrial
Vaginal bleeding in a women who has gone through menopause
Irregular heavy vaginal bleeding and inter menstrual bleeding in women before menopause
Ovarian
The initial symptoms of ovarian cancer are common complaints of woman. This is why it may not be detected early. These symptoms include:
Pressure or a feeling of fullness in the pelvis
Abdominal bloating
Feeling full with small amount of food
Indigestion
Changes in your normal bowel or bladder patterns
Loss of Weight and Appetite
Cervical
Abnormal vaginal bleeding between periods
Vaginal bleeding after sexual intercourse
Vaginal discharge that has a foul smell (Rotten Egg), unusual color, or is more than usual.
Vulva
Itching
Burning, pain, or other discomfort
A sore on the vulva
Changes in skin color
What are the recommendations for early detection and screening?
Early detection refers to testing to find a disease such as cancer in people who do not have symptoms of that disease.
Uterine or Endometrial
At this time, there are no early detection tests recommended for women without symptoms.
The American Cancer Society recommends that women at increased risk (see risk factors above) see their doctor for routine yearly exam and whenever there is any abnormal uterine bleeding.
Ovarian
Tests such as a routine pelvic exam, ultrasound and CA 125 measurement (a blood test) may be performed if a woman is at high risk for ovarian cancer.
Cervical
If you are between 21-29 years and sexually active: you should start getting Pap Smear tests at age 21. If your test is normal, your doctor may tell you that you can wait three years till your next pap test.
If you are 30-65 years old: talk to your doctor about which testing option is right for you:
A pap test only
HPV test only
HPV test along with a pap test (this is known as contesting)
If test is normal for three consecutive years then repeat once in two years
Vulva
Having routine pelvic exams and being alert to any signs and symptoms of vulvar cancer greatly improves the chances of early detection and successful treatment. A lesion in the vulva that itches should be checked-up by your gynecologist.
Most importantly, and crucial to prevent gynecological cancers, is attention to women's health, starting with adolescent health. Girls get used to suppressing menstrual pain with a painkiller from their teenage years, and habitually ignore pain and other symptoms that manifest in the pelvis and abdomen as part of being women. Hormonal disorders such as Polycystic Ovary Syndrome (PCOS) are increasingly rising among Indian women below 20.
Denial is often a factor that delays diagnosis and treatment even among women who are socially and economically empowered. The first step towards healing from cancer is own the diagnosis and treating it as just a disease. Visiting a Gynecologist before getting in touch with a cancer specialist will give more insights into the disease and also will clear the myths and doubts that are there in once mind.
For a majority of women, cancer in their breasts or ovaries is something to be hidden. But this can be changed only with awareness and overcoming the myths associated with it.
by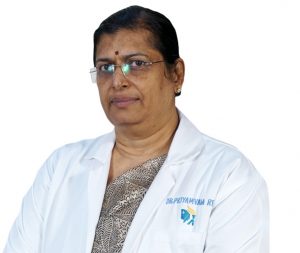 Dr Priyamvada Reddy,
Senior Consultant Gynecologist & Obstetrician,
Apollo Cradle & Children Hospital, Hyderabad