Geriatric Fractures may need urgent intervention Prevention is best option during these Pandemic Times
Especially during The COVID-19 pandemic the elderly are an especially vulnerable population. Geriatric fractures are common and still occur despite all of the activity restrictions and closings currently in place. The inability to visit elderly loved ones in the hospital can be extremely distressing for families, and the care provided by the hospital geriatric fracture service is important for patients and families. During the COVID-19 pandemic, routine office visits for postoperative follow-up may be deferred or completed through telemedicine.
Grow Older – High Risk of Having Injury
The reason for high risk as one's age increases, his body may reabsorb calcium and phosphate from your boness.This makes your bones weaker. When this process reaches a certain stage, it is called osteoporosis. Many times, a person will fracture a bone before they even know they have bone loss.  The most common fractures in older adults are vertebral fracture from compression or trauma, followed by hip and distal radius fractures. One in two women and one in five men will suffer from an osteoporotic fragility fracture, which is defined as any low-energy trauma fracture.
Causes for Injury
Older adults or adults of 65 years and older will have both an increased rate of trauma and an increased predisposition to injury from a fall with even minimal force.  This makes older adults a high-risk population for traumatic fracture from high- or low-impact mechanisms. High-impact fractures occur from falls from a height, motor vehicle collisions (MVCs), and sporting injuries.
The common reason for such incidents in older people is the normal changes of aging, like poor eyesight or poor hearing, can make you more likely to fall. Illnesses and physical conditions can affect your strength and balance. Poor lighting or throw rugs in your home can make you more likely to trip or slip. Older people are more likely to break bones in falls because many older people have porous, fragile bones due to osteoporosis. Additionally, elderly are more likely to have complications from surgeries, as the sedation and additional trauma to the body make the recovery more risky.
Further due to various Neurological diseases such as stroke, Dementia, Vestibular disorders/balance, Parkinson, Multiple Sclerosis; Musculoskeletal diseases such as Osteoporosis, Loss of Muscle density, Arthritis and in problem in the lower extremities, deformities in the joints; Cardiovascular diseases such as Orthostatic hypotension, Arrhythmias, Syncope etc. and other diseases such as Diabetes, Depression, Pneumonia and Bone Infections, Sleep disorders will lead to such incidents among elders.
Visit the Hospital Immediately
Older people with broken bones face a higher risk of death, and that risk can stay elevated for years. It all depends upon the location of Injury.  If a patient who has suffered a head injury should visit the Emergency Department immediately if they: Lost consciousness or became confused/disoriented after they were injured. Otherwise If pain from a fall persists beyond a few hours or you are unable to bear weight or move an upper extremity without pain, be sure to get evaluated by a Orthopedic surgeon. If the fall should cause a broken bone with skin disruption, get emergency care immediately.
Research studies have repeatedly shown that the faster geriatric patients are treated for an orthopaedic injury such as a hip fracture, the better their long-term outcomes. Prompt medical evaluation and definitive orthopaedic care will likely minimize complications from prolonged bed rest, such as the development of pneumonia and bedsores, which can delay a patient's recovery and function.
Diagnosis & Treatment
Once the patient reaches hospital, the medical experts use integrated approach to geriatric fracture care. Geriatric hip fracture patients are identified as soon as they arrive in the Emergency Department.  Immediately after quick examination patients are fast-tracked by obtaining prompt pre-operative testing necessary prior to surgery. Patients are expedited through the hospital, promptly examined by one of our orthopaedic trauma specialists, and cleared for surgery within 24 hours in most cases.
Depending on the type of hip fracture, patients are treated in a minimally invasive manner with percutaneous screws, titanium rods or hip replacement as indicated. Patients are seen by a physical therapist after surgery and are up and walking the next day in most cases. A physician oversees patients' care to maximize functional recovery and minimize postoperative complications such as delirium. A dedicated social worker ensures the patient has a smooth transition from the hospital to their home or a rehabilitation facility, as needed.
After surgery, patients will undergo comprehensive osteoporosis testing to assess their risk of developing future fractures. This includes conducting:
Basic blood tests to check vitamin D and calcium levels
Other specialized tests to detect an underlying cause for low bone density (PTH, TSH, among others)
Bone density test (DEXA)
Once the results are received, our team will provide osteoporosis counseling treatment for patients. Follow up will subsequently be provided on an outpatient basis.
Prevention is better than Cure
In order to prevent incidents that may lead to such conditions, doctors advice different types of interventions in physical, visual, behavioral, environmental aspects where a older person spends his daily routine….
Physical interventions
Adjustment of medication
Protective coating systems can reduce hip fracture risk in the event of a fall.
Use of nutrition programmes (calcium and vitamin D)
Mobility aids
Increase and maintain bone mass and strength through exercise.
Vision interventions (cataract surgery)
Use of appropriate footwear.
Environmental interventions
Changes in the home and public environment.
Removal of obstacles in the household
Behavioral interventions
Increased physical activity and exercise Methods based on the rehabilitation gait training
Evaluation and management of risk factors for multiple falls
Evaluation of the people who have fallen or at risk of falling, to identify modifiable risk factors.
Strategies to modify risk behaviours of the patient falling.
Mechanisms that characterise the cognitive changes associated with ageing.
Overall, this is a high-risk population prone to repeat injury that should be treated cautiously, with extra attention given to co-morbidities, home safety, and future fracture prevention. Older adults have high rates of fractures, which are associated with higher morbidity, higher mortality, and more frequent social and home health care complications than in younger patients. Hence every care must be taken that old people doesn't land in such situation and every care must be taken to prevent such incidents.
——————————————————————————————————————–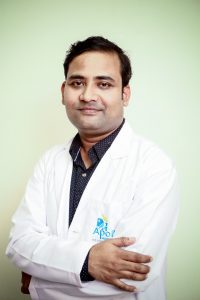 The Article is prepared by Dr Veerendra Mudnoor, Orthopaedics & Joint Replacement Surgeon, Apollo Spectra Hospital, Hyderabad