Aster Prime Hospital undertakes CORONA Awareness Campaign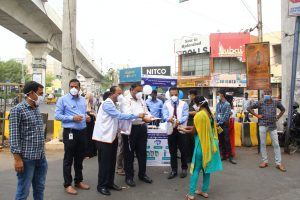 On the occasion of 7th April being observed as World Health Day, Aster Prime Hospital, Ameerpet has undertaken CORONA Awareness Campaign in Ameerpet today. During the event, the hospital staff and students form Sultan Ul Uloom College of Pharmacy distributed masks and information leaflets on prevention of CORONA along with providing information on Vaccination and Importance of Wearing a Mask, Maintaining Social Distance. They also stressed upon the need to wear mask to prevent the COVID.
The campaign was launched by Sri K Saidulu, Inspector, SR Nagar Police today morning in the presence of Mr. Devanand K T, Chief Executive Officer, Dr. Satish Reddy-Senior Orthopedic Surgeon & Managing Director, Dr.Raghu-Senior Interventional Cardiologist & Director, Dr.Raju-Senior Neuro & Spine Surgeon and Managing Director, Mr.A V Rao – Marketing Head, Mr. Srinivasulu & Mr.Penchal Reddy.
Speaking on the occasion, Sri K Saidulu has explained the need to wear mask and appealed to the people to wear the mask and maintain social distance. He also asked people to not to venture outside unnecessarily and if they have to come then take necessary precautions to avoid contracting the disease.
Later speaking on the occasion, Dr.Satish Reddy urged people to adhere to COVID norms and not relax themselves as Hyderabad seems to be facing a COVID second wave. He also urged to get vaccinate themselves as per as the government guidelines without any hesitation or doubt. He explained that vaccination is the only way to protect an individual from COVID.
Further explaining the dangers of COVID, Dr.Raju has asked the people with symptoms to get them screened as early as possible and consult the doctor. The more they neglect themselves getting screening, they will be spreading the disease unknowingly to their near and dear, he said. He asked people to consult the doctors without any delay and urged them to not to follow their own medication.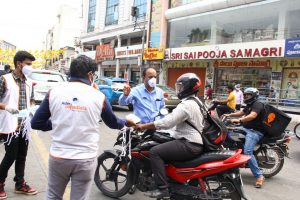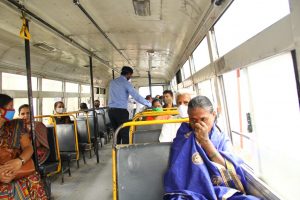 During the day long campaign, Aster volunteers from Hospital has distributed information brochures and explained the need to wear masks with the help of police officials near Ameerpet Metro Station, S R Nagar police station and Kanaka Durga Temple Junction, Ameerpet.