COVID – Impact on Food
World Food Day 2020 marks the 75th anniversary of FAO in an exceptional movement as countries around the world deal with the widespread effects of the global COVID 19 pandemic. World Food Day is calling for global solidarity to help all populations, and especially the most vulnerable, to recover from the crisis and to make food systems more resilient and robust so they can withstand increasing volatility and climate shocks, deliver affordable and sustainable healthy diets for all and decent livelihoods for food system worker.
Hunger, Obesity, Environmental degradation, loss of agro-biological diversity, food loss, waste and a lack of security for food chain workers are only some of the issues that underline this imbalance. As countries begin to develop and implement COVID – 19 recovery plans, it is an opportunity to adopt innovative solutions based on scientific evidence. So they can build back better and improve food systems, making them more resistant to shocks.
Need of the Hour
As a dietician, I strongly feel that we all have a role to play to realize the vision of a world without hunger and malnutrition. We must not let sustainable habits fall by the way side in times of crisis. We can make healthy food choices. We can do our part to reduce waste. We can advocate for governments, enterprises and organizations to share knowledge and support sustainable resilient food systems and livelihoods. Together, we can grow, nourish and sustain our world.
Food companies, including e commerce firms can embrace and share new technologies to manage supplies, especially highly perishable goods. Companies should be mindful of their impact on natural resources and adopt a sustainable approach.
Grow, Nourish, Sustain, Together – Our Actions are Our Future
In recent decades, we have dramatically changed our diets and eating habits as a result of globalization, urbanization and income growth. We have moved from seasonal, mainly plant based and fiber rich dishes to diets that are high in refined starches, sugar, fats, salt, processed foods, meat and other animal sourced products. Less time is spent preparing meals at home and consumers, especially in urban areas, increasingly rely on supermarkets, fast food outlets, street food vendors and takeaway restaurants. A combination of unhealthy diets and sedentary lifestyles has sent obesity rates soaring, not only in developed countries but also in low income countries, where hunger obesity often coexist.
According to UN data available, 120 million girls and boys between 5 to19 are obese and over 40 million children under 5 are overweight while over 820 are suffering with hunger. Unhealthy diet, Obesity and other forms of malnutrition affect nearly one in three people. But the good news is that affordable solutions exist to reduce these problems.
What can we do?
In order to achieve the goal set by World Food Day, we must try to undertake following actions….
Do not waste food, do not push the greens to the corners of your place or toss it in the dustbin. Remember green leafy vegetables are full of fiber and not everybody is privileged to enjoy them on a daily basis.
Make sure you do not overfill your pantry; there is no point hoarding cereals, grains, masalas and coffee. But a sufficient amount that you think you would be able to use before the expiry date.
Eat only when you are hungry. Mindless noshing may take a toll on your overall health and is linked to many disorders.
Balanced diet is imperative for healthy living; make sure you have ample protein, fiber, omega-3 fatty acids, vitamins and minerals. Do not rule out food groups from your diet, without consulting a dietician.
Try to avoid refined grains and refined goods. Excess consumption of refined goods has been linked to weight gain and poor heart health.
Through simple life style changes, we can ensure healthy future for all our kids. We need to teach our kids the importance of healthy food from the early days. We need to inculcate the habit of eating fresh veggies and fruits, avoid eating junk food and make them to eat home cooked food.
It is very simple, our actions are our future.
---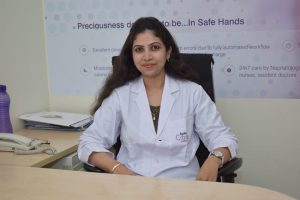 Article is prepared by Dr A Kiraannmayee, Chief Clinical Dietitian, Apollo Cradle & Children's Hospital, Jubilee Hills, Hyderabad