Palliative Care: it's "My Care, My Comfort."
Hospice and Palliative Care
Palliative care is specialized medical care for people with serious illness. It is the care extended to the terminally ill cancer patients.  Once the cancer is termed as 'Terminal' it means that the life of that patient will end soon and no curative treatment is possible. Hence in this stage, it is deemed fit to concentrate on improving the quality of life and lessening the suffering rather than trying to prolong life with toxic treatments. This is the concept of 'palliative care'. A hospice is a place where patients with terminal illnesses are provided with palliative care.
An approach that improves the quality of life of patients facing the problems associated with chronic life-threatening illness and their families, through prevention and relief of suffering by early treatment of pain and other problems, physical, psychosocial and spiritual (WHO). Pallium means a cloak which covers the body of magician, likewise palliative care covers sufferings related to body and mind. It is a holistic approach to health care from diagnosis till death.
Most often symptoms such as pain, poor nutrition, constipation, breathing issues, bedsores, sleep disturbance, anxiety and depression are overlooked during a visit with primary consultant and this leads to poor quality of life. Patients can benefit from a reference to palliative care physician and team for improvement in quality of life. The aim is to make a person functional.
Need for Palliative Care – Indian Scenario
India is faced with a twin burden of communicable diseases like COVID19, flu, TB as well as noncommunicable diseases (NCDs) like cancer, end stage cardiac, neurological, lung, and liver. Multiple vaccination programs helped minimise deaths from communicable diseases. The technology and newer pharmaceutical agents in modern medicine have turned previously fatal illness into chronic diseases.
NCDs have become leading cause of mortality in India. Now most people live longer with more than one illness. They need frequent medical attention to multiple episodes of sickness. This is chocking our health care system. Considering all chronic illnesses total number of people who need palliative care is 5.4 million a year, including a large proportion of end of life patients.
A "Good death" is the right of every dying patient
A good death is "one that is free from avoidable distress and suffering, for patients, family, and caregivers; in general accord with the patients' and families' wishes; and reasonably consistent with clinical, cultural, and ethical standards."  But it is still a dream in India.  In the UK, a world-wide survey was done for Quality of Death in 2015 and India was ranked 67th amongst 80 countries. India ranks at the bottom of the Quality of Death index in the world as we lack palliative/end of life (EoLC) care awareness. To die with dignity, without pain or misery is the goal of palliative medicine.
99% of the population that needs palliative care are missed. Less than 2% of India's 1.2 billion people have access to Palliative care.
1 in 5 suicides in India are committed by a person living with an advanced, chronic or life-limiting condition.
Due to lack of basic social security the financial devastation of the family is far greater at the time of illness.
While the lower income groups suffer greatly due to the above reason, paradoxically the affluent in our country are also marginalised, due to the absence of Palliative Care in healthcare institutions especially in the private sector.
There are thousands of people who cannot access a health care facility because they are bed-bound or are elderly and living alone with no one to accompany them.
An India population study in 2014 showed that in Kerala alone, around 1,70,000 people above the age of 60 live alone in single person households. Of these nearly 1,43,000 are women.
There are socially and culturally marginalised groups – women, children, Sex workers, the LGBTQI community, people with mental health conditions, migrant populations, Tribal Populations prisoners, geographically isolated groups, o People in humanitarian crisis and natural disasters. The list is a pretty long one.
People with Communicable diseases like HIV, Multiple drug resistant tuberculosis , People with addictions, People with chronic pain, People with other drug dependence
Paradoxically, the rich. The affluent go to corporate hospitals, most of which have no pain relief programs, no medicines like morphine, which are in the essential medicines list of Government of India or palliative care. Instead they get cruel, inappropriate end of life care and isolation from the family in intensive care units.
How can we provide:
As the course of illness changes from disease directed treatment to person directed care, most of the patients must get help from palliative care team. Patients are attended to in outpatient clinic or inpatient ward in a hospital, public or private, also at home of patient or in a hospice.
A Hospice is a hospital that cares for person with disease and not just the disease. All practicing doctors and nurses can provide palliative /supportive care even in remote areas. It is a philosophy rather than speciality. A huge number of volunteers support palliative care teams.
Advantages:
Better communication between doctor and patient party about clinical status, goals of care, patient's socio-economic background helps deliver personalised care.
The family/caregivers are counselled about the expected problems at the end of life and trained to provide basic health care at home.
Unnecessary admissions to hospital or ICU are avoided if the patients are exposed to EoLC.
But Still Lot more needs to be done
Palliative care is essential part of management for people with cancer and other such terminally ill conditions. Unfortunately very few cancer centres and speciality hospitals are providing palliative care service to their patients. Hyderabad has couple of Hospice services with limited bed strength for end of life care of terminally ill patients. Home care teams formed by palliative care members from the hospice ,visit different areas in city to provide services that cannot be handled by care givers. But still lot more needs to be done.
World Hospice and Palliative Care Day 2020
On this World Hospice and Palliative Care day we want to create awareness about the advantages of palliative and End of Life care, among medical fraternity as well as lay public. People from around the world that have been impacted by a life-limiting illness — either personally or by supporting a loved one — will be making their voices heard, asking policy makers to pay attention to prioritize palliative care policies and services. Remember palliative care adds life to days.
Further, people who have been standing in solidarity with them — local leaders, volunteers, advocates, clinicians — will be volunteering their time to amplify this public message: Palliative Care: it's "My Care, My Comfort."
——————————————————————————————————————————————————-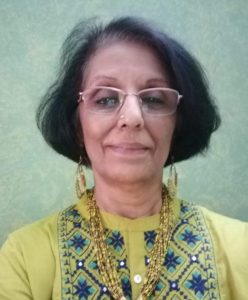 The Article is prepared by Dr Anjana Surath, Medical Oncologist & Palliative Care Physician, Basavatarakam Indo American Cancer Hospital & Research Institute, Hyderabad.  Under her supervision, Medical oncology department of BACHRI operates "Pain and Palliative Care Service" for the benefit of all patients in this hospital. We believe Palliative care is essential part of management for people with cancer. We provide skype/ video consultation for very sick patients who cannot attend hospital. Patients living in far away towns or villages have the option to connect with palliative care physician for guidance during supportive care at a local health centre. Contact ID: dranjanasurath (For appointment and consultation during working hours only)