Due to the sudden surge of COVID cases during the second wave in India and With an objective to reach out to people who are facing difficulty in getting themselves tested for COVID-19 RT PCR (ICMR Approved) due to this pandemic, Apollo Diagnostics – the Diagnostic vertical of Apollo Health & Lifestyle Private Limited, has decided to set up a few drive thru facilities for testing in Hyderabad. This initiative will benefit hundreds of citizens in the city, and timely medical intervention will be possible. Each facility is fully equipped for the testing, and has the capacity to manage up to 250 patients in a day.
The first such facility is being established at Meridian School, Madhapur, and will be functional from this Friday, April 23, 2021. It will cater to residents residing in areas like Gachibowli, Kukatpally, Madhapur, KPBH, and Kondapur.  The entry for the testing facility is from Meridian School – Gate No: 2 (Madhapur Branch).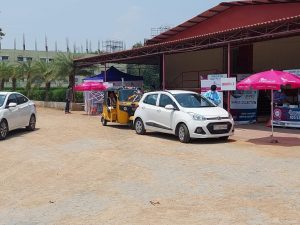 An easy and safe 5 step procedure has been put into place, so that citizens are not inconvenienced at all. 
A person entering the facility has to complete the registration process by scanning a QR code, and will receive a token number on their m
After the token is generated, the person has to complete the payment process online, and proceed for testing.
As per as the token generated, a Phlebotomist will take the sample from the person.
Once the sample is taken, the person will receive a message with details and also a digital invoice. The person needs to carry necessary identification documents, as specified by the government (PAN Card or Aadhaar Card).
Apollo Diagnostics will deliver reports within a time frame of 48-72 hours.
The entire process is to complete the whole registration and payment is a touchless and contactless procedure.
Apollo Diagnostics is planning to set up more such facilities in Hyderabad, to cater to the citizens of the city. The new locations will be updated and displayed on the company website  – (www.apollodiagnostics.in) as soon as they are active.
For more information, patients can contact Apollo Diagnostics customer care at 040-44442424 for further details.